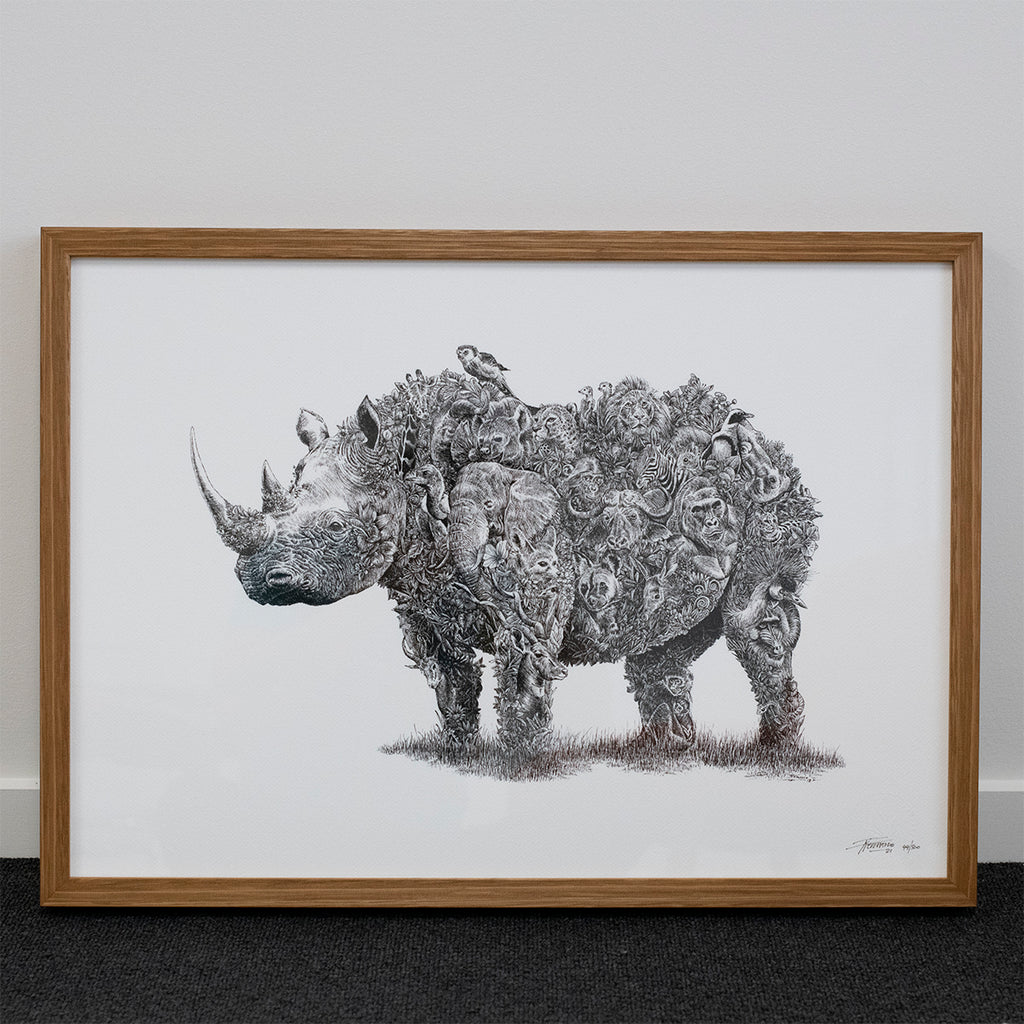 Black Rhino / Africa - Framed (Pick Up In-store Only)
PLEASE NOTE: This framed print is only available for pick up in-store, postage not available.
Pick up point: 318 Bay Road, Cheltenham, VIC 3192.

$25 from every print sold is donated to Save the Rhino, supporting their important conservation work.

Details
Tasmanian Oak Frame
Edition Available: No. 44 of 500
Paper size: 420 x 594mm
310gsm 100% Cotton Archival Paper
Individually hand signed by Nathan Ferlazzo.
Includes hand signed certificate of authenticity.
Pick up in-store only.

This is an archival giclée print, individually produced by Nathan Ferlazzo. The paper is 310gsm 100% cotton rag crafted at the Canson paper mill in Annonay, France. Each print includes the Marini Ferlazzo embossment, validating it as an authorised giclée print that conforms to archival standards.
The copyright remains the property of Marini Ferlazzo upon sale
Can you spot these animals in this illustration:
Aardvark
African Bee
African Buffalo
African Painted Dog
African Penguin
African Pygmy Falcon
Blue Wildebeest
Boomslang snake
Cheetah
Chimpanzee
Clouded Mother of pearl butterfly
Dung Beetle
Elephant Shrew
Elephant
Fennec Fox
Grey Crowned Crane
Hippopotamus
Hyena
Lesser Kudu
Lion
Mandrill
Meerkat
Mountain Gorilla
Ostrich
Reticulated Giraffe
Serval
Springbok
Vervet Monkey
White-backed Vulture
Zebra